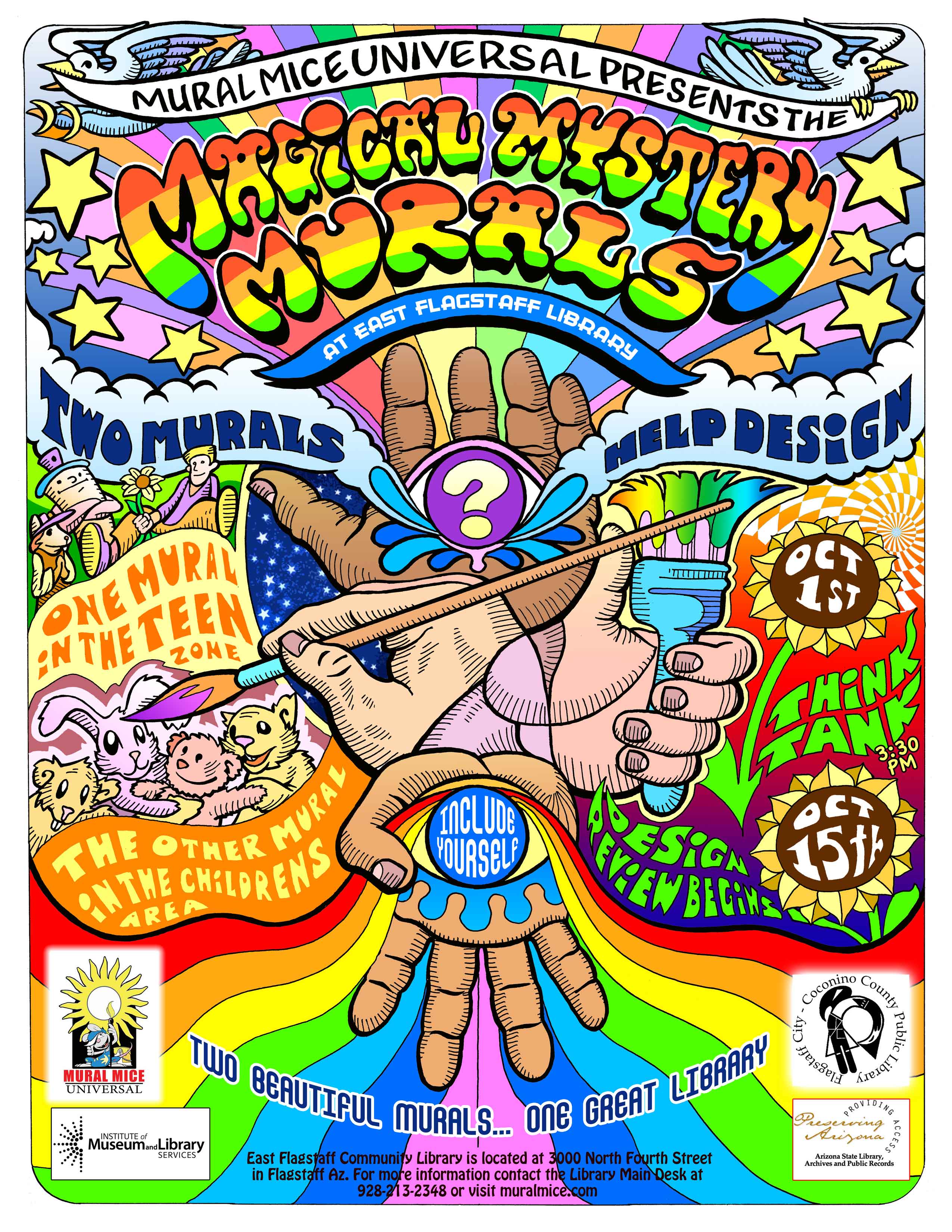 The East Flagstaff Community Library (EFCL) and Mural Mice Universal are pleased to announce the "Magical Mystery Mural Project." Two murals will be placed in the newly renovated Children's Area and Teen Zone at EFCL. Teens and community members are encouraged to participate in the conceptualization of the murals this Fall. Viola Award winning Mural Mice artists R.E. Wall and Margaret Dewar will lead a small team of youth through the painting process in November.
Mice Seek Help with Magical Mystery Murals of the East Flagstaff Library
Stop by East Flagstaff Community Library throughout September and leave your ideas for the murals at the Fantastic Feedback Table. "Magical Mystery Murals," suggests the endless possibilities of a blank canvas. "We want the art to be infused with inspiration from the same community that will be enjoying the space," said R. E. Wall, Executive Director of Mural Mice Universal.
The public is invited to participate in a Mural Think Tank at 3:30 pm on October 1st at the library. The ideas and feedback gathered from the community will inform the Mice as they begin the designing process. The designs for the murals will be on display at the library October 15th -23rd where they will encourage final suggestions and feedback before the painting begins November 1st.
"The goal of the mural projects are to encourage families with children to see the library as a place where they can come and play. We also want to engage the teens with a project that will inspire ownership of their space in the library," said Mural Mice director Margaret Dewar.
The project is made possible through grants from the Institute of Museum and Library Services and the Arizona State Library. For more information contact the Library Main Desk at 928-213-2348 or visit muralmice.com.