Bushmaster Park Bubble Bash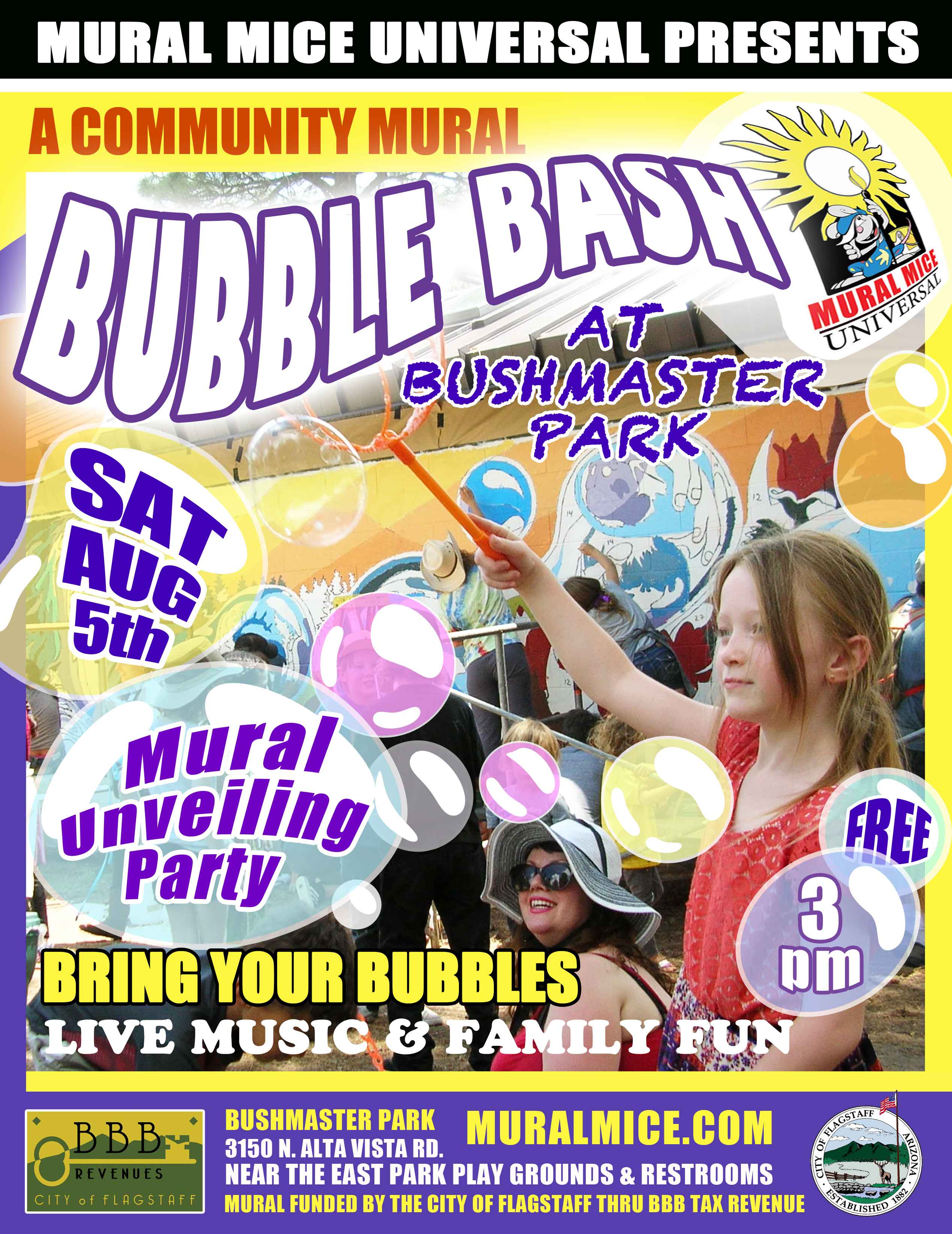 Mural Mice to Unveil Bushmaster Park Mural with Bubble Bash
Flagstaff, AZ - Bring your best bubble blowers to the community mural unveiling and bubble bash. The party takes place Saturday, August 5th, 3-5pm in front of the new mural located on the public restroom at the eastern end of Bushmaster Park located at 3150 N. Alta Vista Dr. Join Mural Mice and city dignitaries in celebration of Flagstaff's newest mural and community painting effort.
Over 100 members of the community participated in the painting of the new mural, and hundreds contributed their thoughts and ideas to the project. The Mural Mice, a Flagstaff-based artist collective began the process of developing the mural in early June by gathering feedback from park patrons. Participants suggested things that they like to do at the park such as skateboarding and dog walking. There were many requests to depict the diversity of the neighborhood, celebration of family and friends, and folks coming together.
After several weeks of pouring over ideas, designs and listening to feedback at community meetings, the Mural Mice submitted the design for the Beautification and Public Art Commission's (BPAC's) final approval. The mural depicts a young girl blowing bubbles over a rose bush. Each bubble contains a scene reflecting the themes of aspirations, gratitude, and wisdom.
The Mural Mice began painting community murals in 2005 and have projects throughout Arizona. Moving to Flagstaff in 2013, they have placed several large public murals including "Mother Myth," on Phoenix Ave (Historic Rt.66), and the Orpheum's, "Sound of Flight" in collaboration with Flagstaff artist, Sky Black. This is their first outdoor community mural in Flagstaff and they are excited to celebrate its successful completion with the people who brought it to life.
All ages are invited to attend. Bring your bubbles rain or shine. The mural is funded by the City of Flagstaff's BPAC with Bed, Board and Beverage (BBB) tax dollars. For more information call 928-713-2296 or visit www.muralmice.com.