Downtown Phoenix Fry's Store Unveils MMU Mural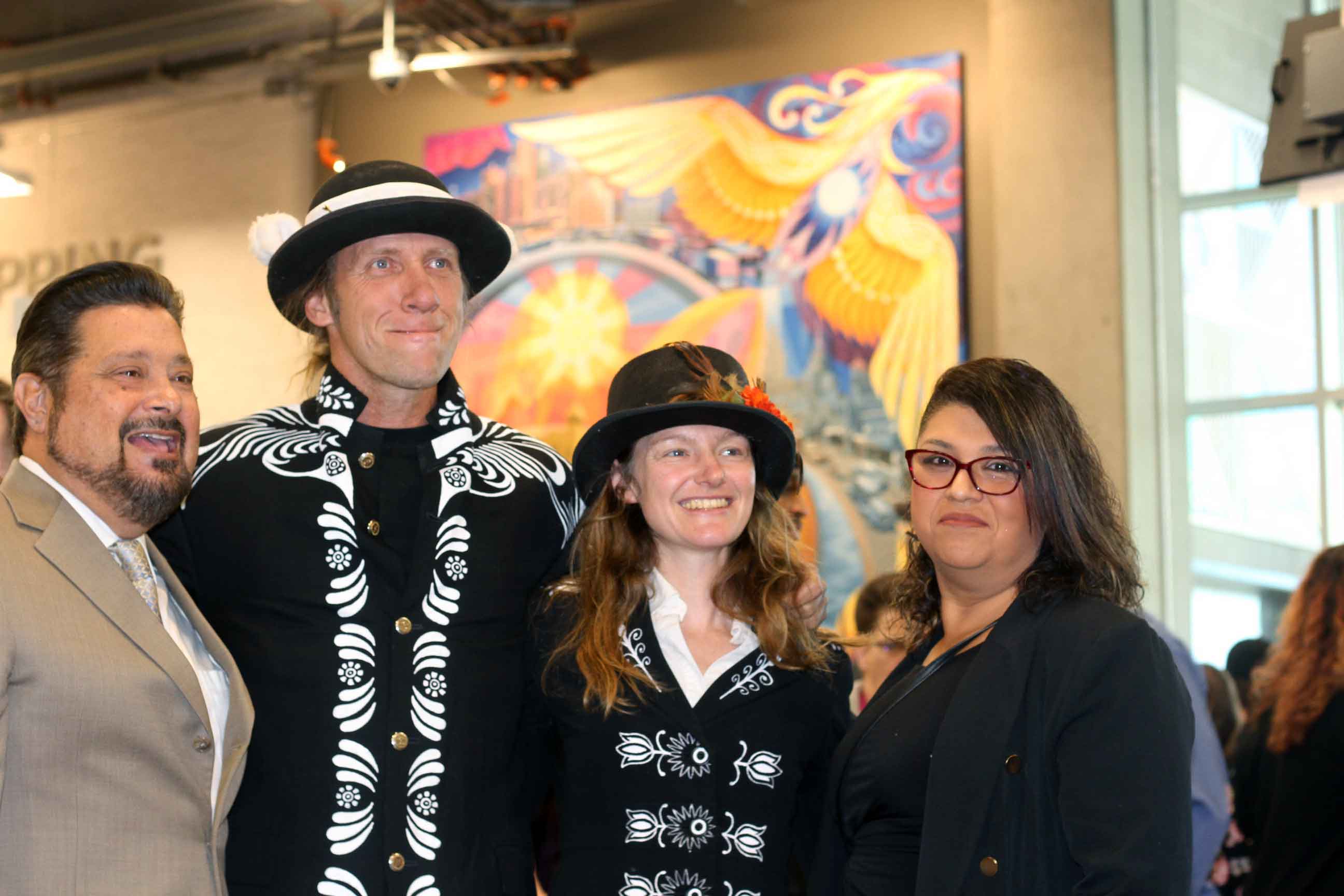 Mural Mice R.E. Wall and Margaret Dewar pose with Phoenix city council people Michael Nowakowski and Betty Guardado at the opening of the downtown Phoenix Fry's store October 23rd, 2019
Water Conservation Mural Dedication
Flagstaff teens are hosting a community event, where they will unveil a youth-designed mural that illuminates threats to water in the Southwest and shares stories of environmental injustice, community resistance, and hope. Their powerful work of public art advocates for the protection of our region and envisions a future of water justice on the Colorado Plateau.
Celebration Event will take place Wed. October 24, 2018 4:00-6:00 p.m.
at Grand Canyon Spirits Store- 982 N Ft. Valley Road, Flagstaff, AZ 86001
Flagstaff Mayor Unveils Community Reflections Mural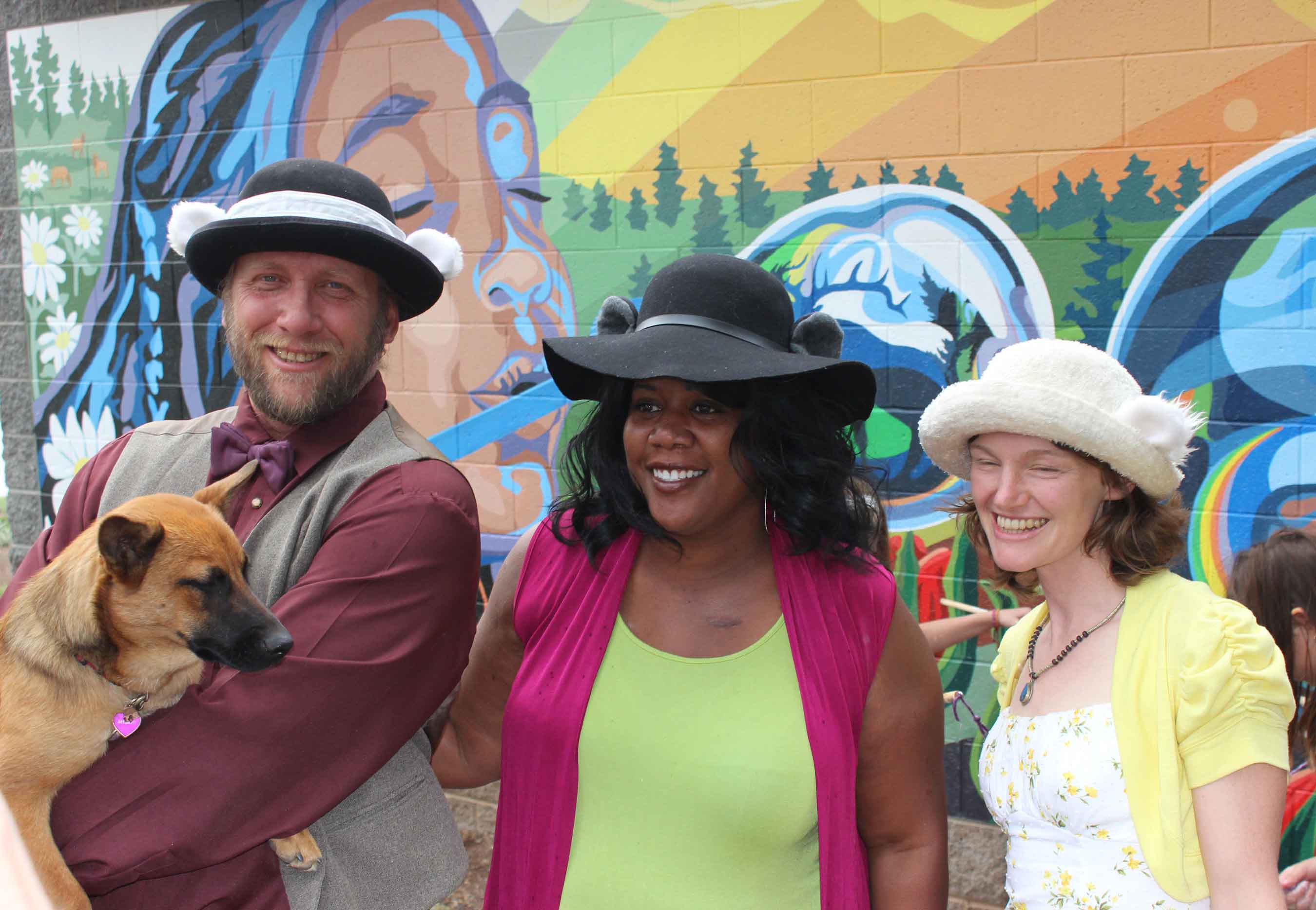 Flagstaff Mayor Coral Evans and an entourage of city dignitaries helped to unveil the "Community Reflections" mural at Bushmaster Park. Local musical legend Tony Norris and friends performed for a jubilant crowd of bubble blowing children and public art aficionado's. Mural Mice Universal artists R.E. Wall and Margaret Dewar hosted the event. Click here to see and learn more.
East Flagstaff Library Welcomes Two New Murals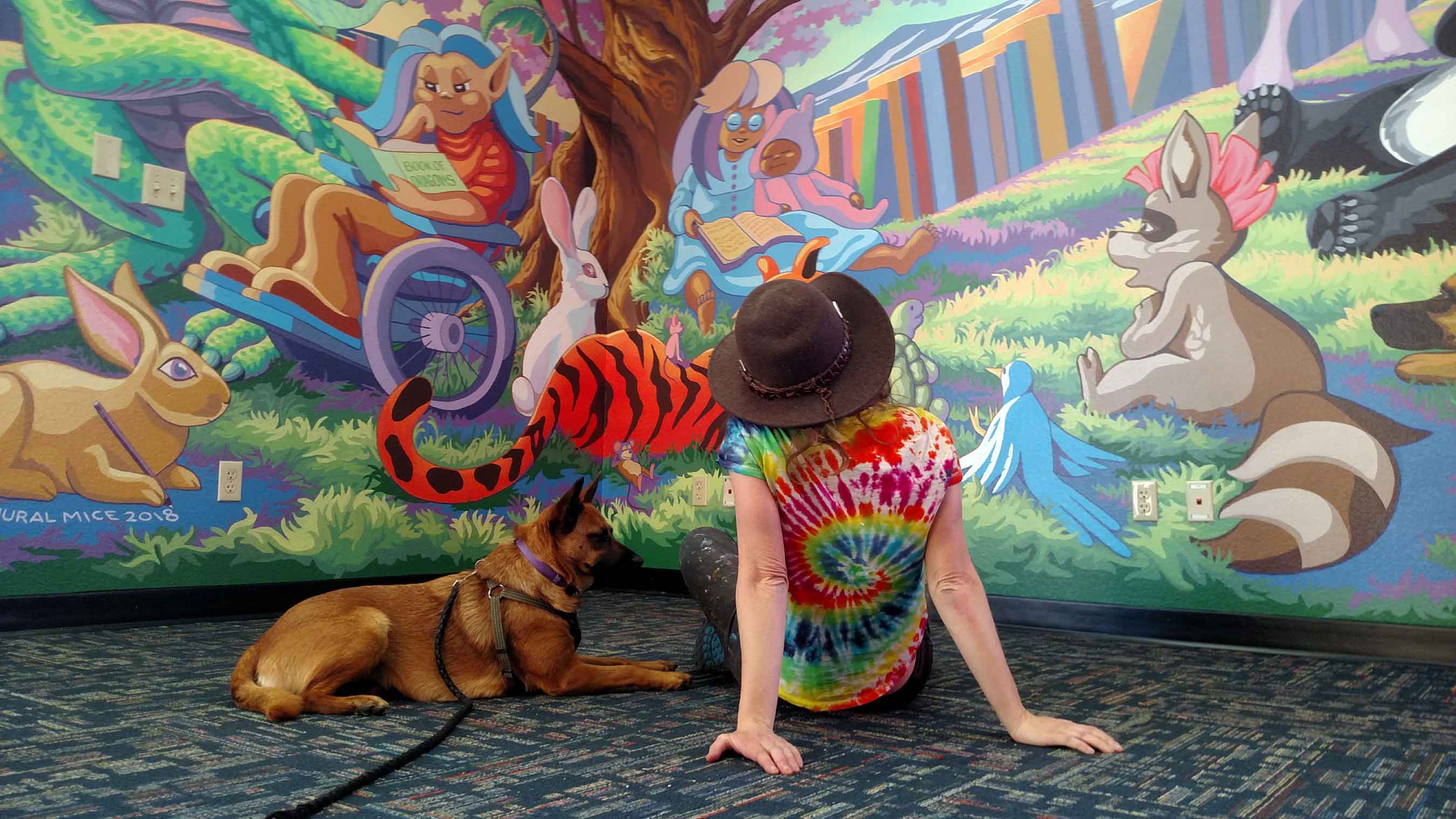 The Magical Mystery Murals are revealed and now on permanent display
at the East Flagstaff Community Library (EFCL).

The mural project is the brainchild of Branch Supervisor Michele Brosseau. Her vision
for two murals in the newly refurbished Teen and Children's Rooms has been a welcome
addition to the library. (Read More)
Mice Open Window to Flagstaff History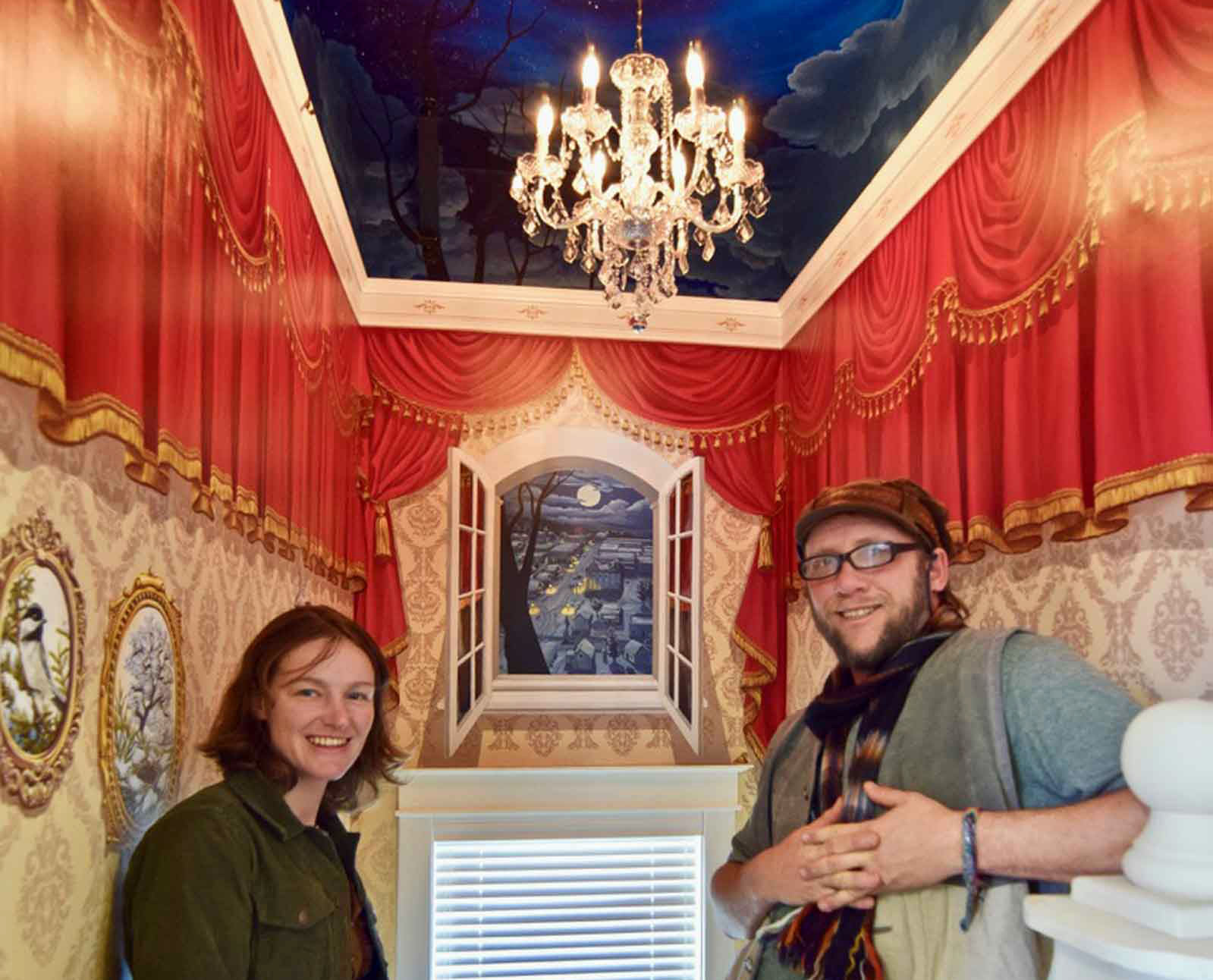 Mural Mice artists R.E. Wall and Margaret Dewar had been painting a mural in the Flagstaff Convention & Visitors Bureau, A.K.A. the Milligan House, for two months. The vision for the mural called for resident ghost Mabel Milligan to head upstairs to her chambers. An unusual gallery greets her at the top of the stairs where a window to January 1st 1916 has been left open. Because of all the paranormal energy afoot; the roof was removed to reflect eternity in the form of stars above.
With Marketing Director Trace Ward at the helm and CVB staff gently stepping through the mess on the steps, the Mice took the house ghost vision to the next level, making it the newest attraction for the Flagstaff Haunted Places tour. Located on 323 W. Aspen Ave.
Beehive Collective, Flag High, and Grand Canyon Trust Team Up with Mural Mice for Water Justice Mural

A banner reads, "Water is Life" across the upper right corner of the new mural at the Grand Canyon Spirits Store on North Humphrey street in Flagstaff. Students from Flagstaff High School are composing a tale about water justice on the Colorado Plateau. The project is a partnership led by the Grand Canyon Trust, Beehive Design Collective, Mural Mice Universal and the Flagstaff High School Art Program. Read On
Mice Paint Flagstaff Visitor Center

Flagstaff's historic train station is the home to the Flagstaff Visitor Center. Eighty to one hundred trains flow past the station every day. Now, there's a train inside, a model train, and its complete with a diorama of Flagstaff in the mid 1920's. Read and see more....
Flag Pride Mural Graces Orpheum Theater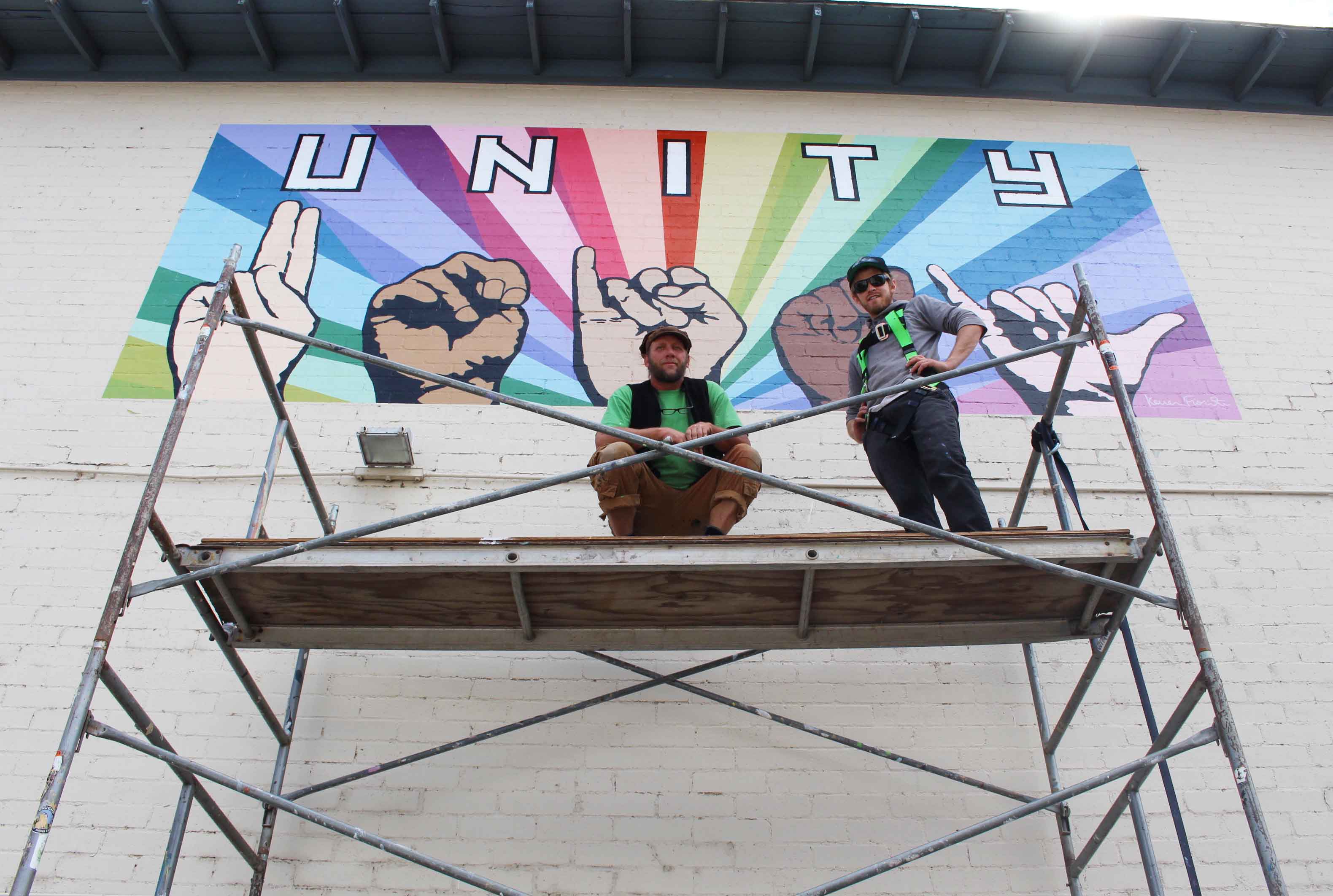 The Unity Mural was designed by artist and activist Karen Fiorito and painted by Flag artists Sky Black and R.E. Wall. The UNITY mural displays the colors of diversity along with the word UNITY in English and American Sign Language. The mural was funded by Flagstaff Pride and Together We Will. Both organizations work to celebrate and increase acceptance and awareness of the lesbian, gay, bisexual and transgender (LGBTQ) community of Flagstaff and Northern Arizona. A Mural Dedication will be held on Saturday October 6th, 2018 at the historical Orpheum Theater during their annual Coming Out Drag Show. Read more about the project here and here.
Mousefest Your Dreams!
Welcome to the home of the Mural Mice
We are happy to share our art and our experience in building community murals and theater.
Ask us how you can get involved in the next big Mural Mice adventure.
Take a closer look at some of our work with a virtual mural tour.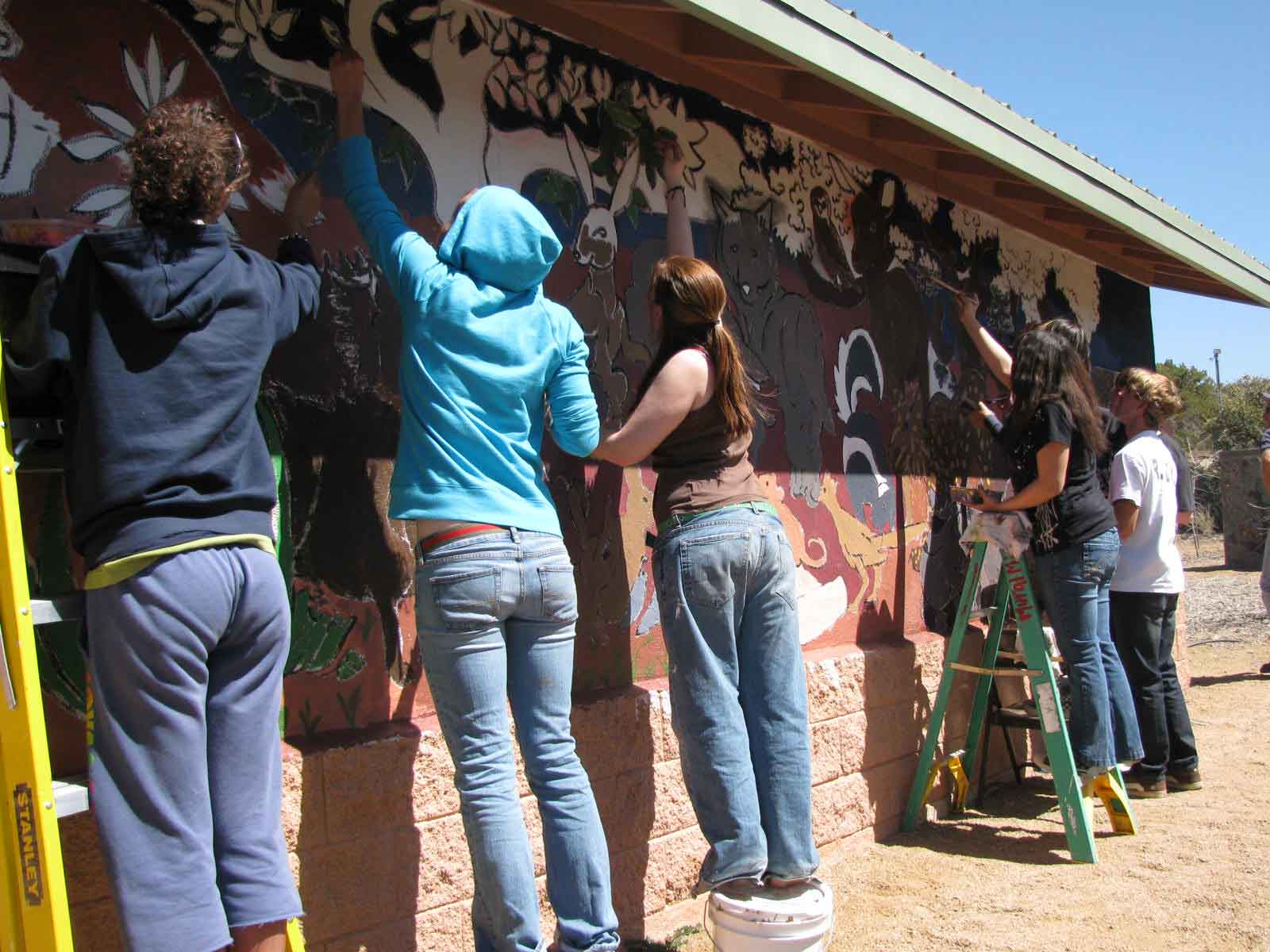 Mural Mice Philosophy
First and foremost, we care about community. We use murals as a tool to bring people together. As artists we want our talents to serve the greatest good, to inspire, beautify and empower one another to get involved in community. Our murals are an expression of what holds us together, a celebration of our uniqueness, our differences, our heritage and our vision for the future.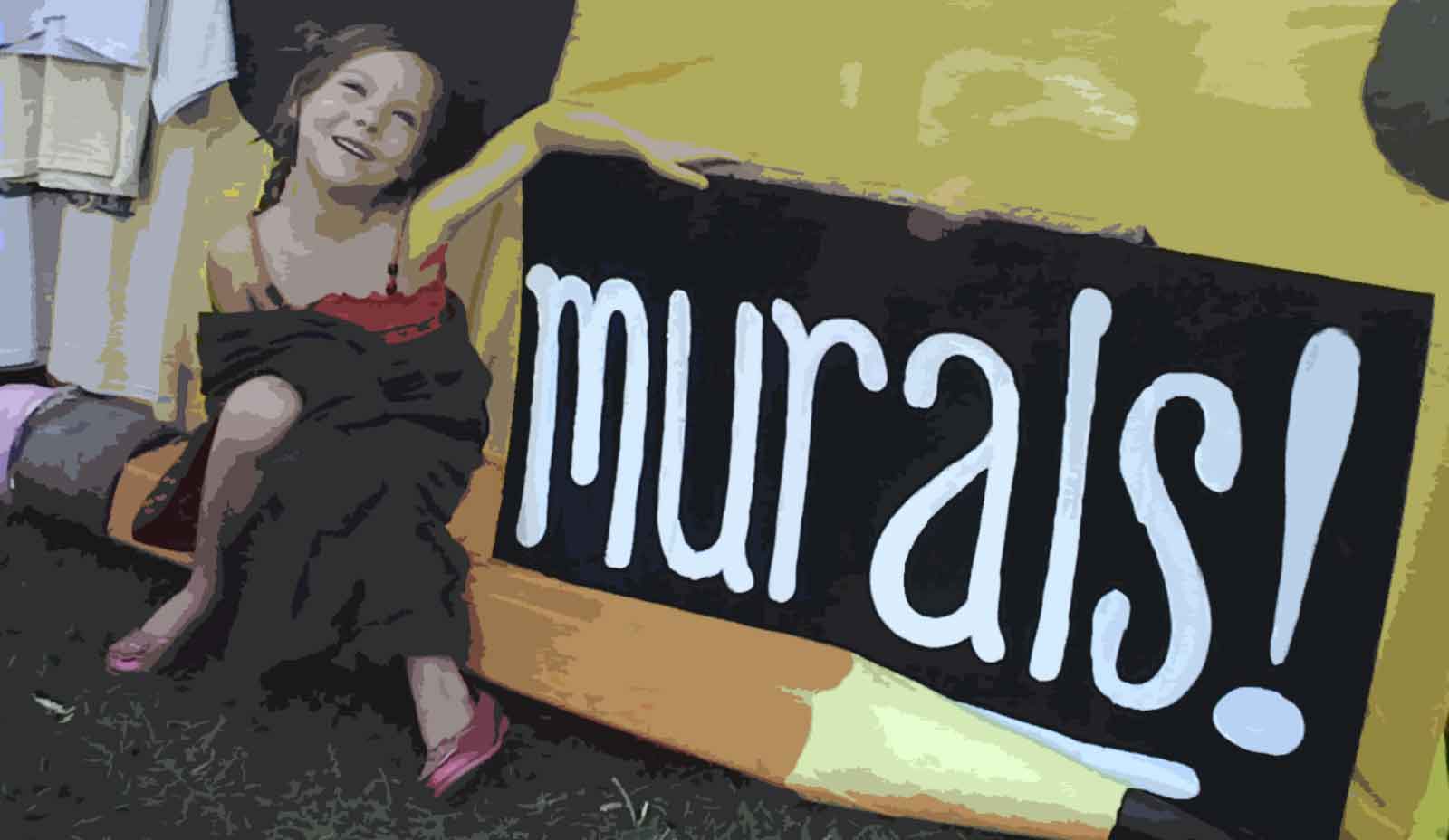 Page 1 of 3