"Music Of Nature" -Acker Park, Prescott Az. 2010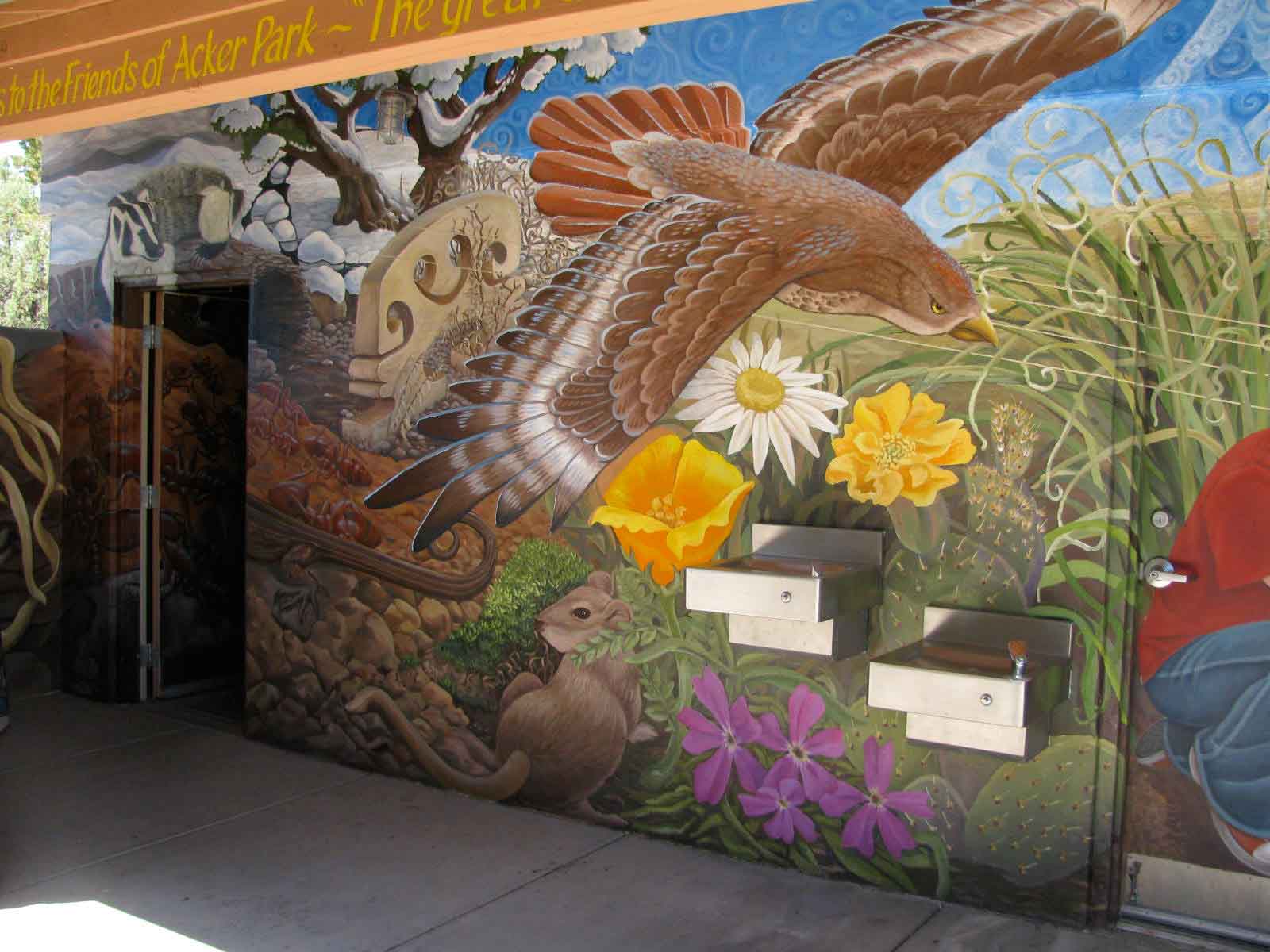 "Music of Nature" painted by Mural Mice Margaret Dewar, Shellie Montgomery, Jenny Borst, Lee Bradley, Richard Elkins and many more. Dedicated June 10, 2010.
"Music of Nature" is an expression of a community's appreciation for their land. Nestled in the heart of J.S. Acker Park, an 80 acre parcel of land preserved as open space, this colorful mural was painted by 100 "mice" in the spring of 2010. Take the tour.
The park is home to a myriad of local fauna and flora, and serves a vital need as an area for people to hike and recreate. It is a place held dear to those who live nearby and enjoy the park. The land was originally owned by local philanthropist, James Samuel Acker, who willed the land to the City of Prescott for the purpose of parks and music. The city nearly sold the land for development when local citizens stepped in to preserve the land for it's original designation. The park was established in 1996.
The Friends of Acker Park commissioned the Mural Mice to create a community mural for the bathroom facility as an addition to the Art Park. The Mice went door to door in the neighborhood seeking input for the mural in the form of oral stories. From the information gathered, a design was created to wrap the entire exterior of the building. Through rain, snow, wind and sun, the artists worked. Students from the nearby schools of all ages, citizens from the community, a variety of local painters, even a community service crew left their mark on the wall.
The mural contains a number of significant stories regarding the history of the land as the Tenney Ranchland, a graveyard and the site of the 1950s drive-in movie theater. Also represented are the local plants and animals of the park, children playing in the wild landscape, and a couple sitting atop a hill overlooking the town of Prescott enjoying a beautiful sunset. A conference of creatures gather at the site of J.S. Acker's gravestone located in the park, representing the variety of citizens who stood together to ensure his Will was honored. Their efforts preserved the land as a park for the benefit of all the citizens of Prescott and the wildlife that thrive there.
Link to www.ackerpark.info